learn about and explore Margaret River's forests and tracks on our electric quad bikes - the first of their kind!
Our EcoBikes have been specifically designed to float over the delicate trails of the National Park. Their wide , load spreading, low inflation tyres combined with a specifically designed power delivery system which inhibits wheel spin and maximises traction, the EcoBikes are world leaders in ethical powered transport in sensitive environments.

Nowhere else on planet earth can you experience them...because we designed and built them just for Eco Adventures Margaret River!
A Margaret River innovation :)

But in order to further enhance the experience we equipped all the electric quad bikes with an iPad mini to aid in graphically bringing to life all the facts and legends contained in the presentations at each destination. All the better for you to quickly grasp the message and add to your store of knowledge about this incredible landscape.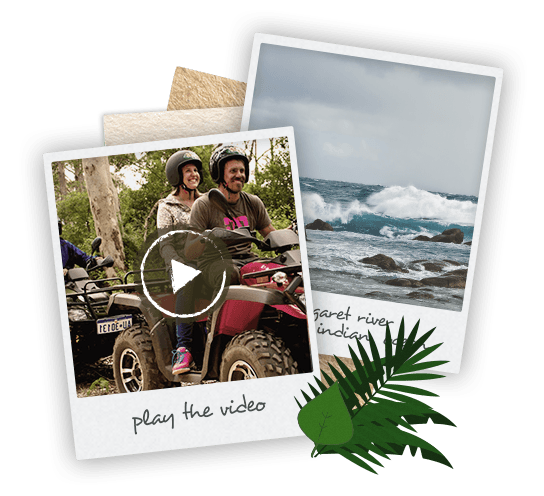 Pricing
Our bikes are able to seat 1 or 2 people comfortably. Each bike has a maximum load capacity of 160 kilograms. Two people with a combined weight in excess of 160kg need to book one bike each. The driver needs a current drivers licence or Learners Permit.


$175.00
Driver +
Passenger

Pickup Location
Our fully guided tour leaves from the corner of Caves Road and Vlam Road, about a 20 minute drive SOUTH from Margaret River town. The easiest route is to follow Bussell Highway (the main street in town) south to Forest Grove Road (approximately 6 kms south of the little town of Witchcliffe) and turn right. Continue to the T junction(the end of the road) and turn left onto Caves Road. Continue for about 10 kms to Vlam Road where you will see the bikes to your right.
frequently asked questions
Here's a collection of questions we're frequently asked. If you can't find your question here, please feel free to contact us.
If you can't find your question here, please feel free to contact us.